"Dédiée dès sa naissance au cruel dieu Num, une vieille Nénet solitaire se remémore sa vie sacrifiée alors qu'une jeune aveugle vient la visiter sous son tipi. Dans les splendeurs des paysages de la toundra sibérienne, les misères d'une vestale nordique. / Consecrated to the cruel god Num since birth, a solitary old Nenet woman reminisces on her sacrificed life while a young blind woman comes to visit her in her teepee. In the splendours of the Siberian tundra landscape, the sad life of a Northern vestal virgin."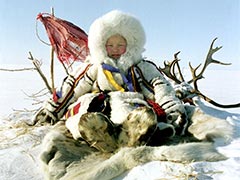 ---
Réalisation : Anastasia Lapsui & Markku Lehmuskallio
Production : Kristiina Previla
---
Contacts:
Production : "Millennium Film Ltd., Koskikartanontie 12, FIN-755 30, Nurmes, Finland, Tél: +358 13 5110 100, Fax: +358 13 5110 111, kristiina.pervila@millenniumfilm.fi, www.milleniumfilm.fi"
Distribution : "The Finnish Film Foundation, Kanavakatu 12, FIN-00160 Helsinki, Finland, Tél: +358 9 6220 300, Fax: +358 9 6220 3060, ses@ses.fi, aretta.vahala@ses.fi, jaana.puskala@ses.fi"
---
Informations complémentaires:
Interprétation : "Angelina Saraleta, Viktoria Hudi, Ljuba Filipova, Jevgeni Hudi, Gennadi Puikko"
Collaboration : "Scénario / Script: Anastasia Lapsui- Dir. de la photographie / Dir. of photography: Johannes Lehmuskallion - Prise de Son / Sound recording: Sergei Sabenin - Montage / Editing: Juho Gartz - Musique originale / Original Music: Anna-Kaisa Liedes, Leena Joutsenlahti"
---
Retour - Fermer