"La récolte des arachides, la partie de foot et le rituel mené par une femme chamane. La vie selon les Parana du Brésil, telle que filmée par les jeunes du village. / The peanut harvest, a football match and a ritual led by a female shaman. Life among the Paranas in Brazil, as filmed by young people from the village."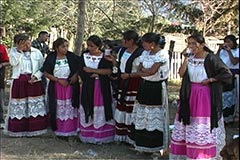 ---
Réalisation : Kamoi Panara & Paturi Panara
Production :
---
Contacts:
Production : Video nas aldeias
Distribution : "V-tape, 401 Richmond st. W., suite 452, Toronto ON, M5V 3A8, Tél: (416) 351-1317, Fax: (416) 351-1509 distribution@vtape.org, www.vtape.org"
---
Informations complémentaires:
Interprétation :
Collaboration :
---
Retour - Fermer