"Documentaire: Sur l'île de Palawan, rituels sacrés et vie quotidienne Les shamans maintiennent la tradition du Basal, rite séculaire qui rappelle les sept mondes du dessous et les sept monde du dessus qui composent l'univers. Le film cherche à rendre, par son approche cinématographique, la cosmovision autochtone. Envoûtant comme la fleur de Lumpat Pagar, rare et mystique, dont les pétales peuvent charmer Parimanis, l'Absolue Beauté. / Documentary: On Palawan island, sacred rites and daily life. The shamans perpetuate the Basal tradition, an age-old rite recalling the seven worlds below and the seven worlds above that make up the universe. The films seeks to express the Aboriginal cosmic vision through the resources of film. As captivating as a rare and mystical Lumpat Pagar flower, whose petals can charm Parimanis, the Absolute Beauty."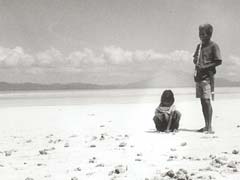 ---
Réalisation : "Réalisation, production / Director, producer: Kanakan-Balintagos"
Production :
---
Contacts:
Production : "Production, distribution: Indigenous Pelikula, 329-A Sta. Teresita st., Sampaloc, Manila, 77107, Philippines, Tél./ Phone: (632) 735-9135"
Distribution :
---
Informations complémentaires:
Interprétation :
Collaboration : "Scénario / Script: Kanakan-Balintagos Dir. de la photographie / Dir. of photography: Matang-Araw Prise de Son / Sound recording: Manunga Montage / Editing: Kanakan-Balintagos, Matang-Araw Musique originale / Original Music: Palaw'an people Concept sonore / Sound concept: Manunga, Matang-Araw Mixage / Mix rerecording: Matang-Araw, Manunga"
---
Retour - Fermer