Welcome
---
Call for entries - Film & Video Showcase - 24nd edition of Montreal First Peoples Festival

July 29th to August 5th 2014
Film & Video Showcase
DEADLINE: MARCH 31st, 2014
Extended period for submission : new deadline April 15
Inscriptions
24e édition du Festival Présence autochtone, Montréal
29 juillet au 5 août 2014
Volet films et vidéos
DATE LIMITE: 31 MARS 2014
Prolongation de la période de soumission jusqu'au 15 avril.
Convocatoria
24a edición de Presencia Autóctona, Montreal
29 de julio hasta el 5 de agosto de 2014
Muestra de cine y video
PLAZO: 31 de MARÇO de 2014
Período extendido de presentación: nuevo plazo 15 abril
Formularios disponibles (francés / inglés)
Inscrições
24ª edição do Festival da Presença autóctona, Montreal
Do 29 de julho até dia 5 de agosto, 2014
Setor filmes e vídeos
PRAZO FINAL para apresentar seus projetos: 31 DE MARZO 2014
Período prolongado de apresentação: novo prazo 15 abril
23rd First Peoples' Festival acknowledgments
Dear friends,
We thank you warmly for your participation in the film & video program of the 23rd edition of Montreal First Peoples' Festival Présence autochtone, which took place successfully from July 30 to August 5 2013. We wish you the best for all your projects. We will stay in touch with you regarding the next edition of our Festival. Best regards,
The Land InSights team
Queridos amigos, queridas amigas,
Queremos expresarles nuestra profunda gratitud por su participación en la muestra de cine y video del 23o Festival Présence autochtone, que se llevó a cabo con exito en Montreal del 30 de julio al 5 de agosto del 2013. Les deseamos suerte en todos sus proyectos. Estaremos en contacto con ustedes para la proxima edición del Festival. Un saludo fraterno,
El equipo de Terres en vues
23rd First Peoples' Festival opening night
The Land Insights team wishes to thank everyone who attended the First Peoples' Festival opening night.
We were able to count on the presence and support of Mr Ghislain Picard, AFNQL Chief, Ms Élisabeth Larouche, Ministre déléguée aux Affaires autochtones and several other guests of the films and videos segment of our festival.
Pierre Bastien presented us the team without whom Paroles Amérikoises could not have been made. L'Enfance déracinée by Réal Junior Leblanc charmed the audience as well. Umätu, le chant du Notou, a three-minute short from New Caledonia, was a delightful discovery.
A full house at the Grande Bibliothèque auditorium, performance by Kathia Rock and Jean Frédérick Messier at the Cinémathèque québécoise bistro, all in all a splendid evening.
Once again, many thanks to all of you! Without you, First Peoples' Festival could not have become what it is.
Every one on our team wishes you an excellent festival!
23rd First Peoples' Festival Program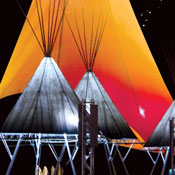 André Dudemaine, President and Artistic Director of Présenceautochtone/First Peoples' Festival, today unveiled the program of the 23rd edition of our Festival. This is a cultural event that, as it name indicates, is a presence, and a constant one. Our festival's 23rd edition flows from a far more ancient presence and constancy, the millennial cultures of the original peoples of this part of the planet. Despite many efforts to erase these peoples' indelible mark or relegate them to invisibility, a festival in Montreal can still bear the name Présenceautochtone, in dignity and pride.
Go to Montreal First Peoples' Festival official website
National Aboriginal Day - June 21st 2013
Montréal, June 18th 2013 – We will relight the ancestral flame on the longest day of the year. Noon marks the hour of solidarity. The sky's fire and the Earth's correspond in a cosmic echo.
Land Insights sends out an invitation to all; come and join in on the ceremony marking June 21, National Aboriginal Day at Place Jacques-Cartier and Place Vauquelin in Old Montreal.
An ancient spirit, uniting the Aboriginal peoples of the Americas, takes wing in the bountiful June sunshine. Dances, songs, tobacco ceremonies, poetic statement, drums.
With the Keepers of the Eastern Door, the Buffalo Hat Singers, the poet NatachaKanapé Fontaine and the cohort of Giants.
Gathering at Place Vauquelin (beside City Hall) at 11:30 a.m. At noon, we walk to the cauldron where the Day Fire will be lit.Everyone is welcome.

Land Insights, société pour la diffusion de la culture autochtone acknowledge the financial support of the Government of Canada through the Department of Canadian Heritage and the Celebrate Canada program.
Information, matériel de presse et entrevues : IXION Communications 514-495-8176 / info@ixioncommunications.com
Call for entries - 23nd edition of First Peoples' Festival Présence autochtone, Montreal

The Call for entries deadline has expired for the 2013 First Peoples Festival/ Présence autochtone Film & Video Showcase.
Thank you to all who submitted their works!
The program will be officially announced mid-June.
23nd edition of First Peoples' Festival Présence autochtone
Film & Video Showcase
July 30st to August 5th 2013
Les Rencontres internationales du documentaire de Montréal (RIDM)
Les Rencontres internationales du documentaire de Montréal (entre le 7 et le 18 novembre 2012) présentent plusieurs films qui abordent des thématiques liées aux Premières Nations.
C'est l'occasion de découvrir le dernier Alanis Obomsawin, The People of the Kattawapiskak River; de revoir l'excellent Reel Injun : d'applaudir les gestes de résistance des Innus filmés par Réal Junior Leblanc dans Blocus 138, court métrage qui précèdera la projection, en première mondiale, de La Nouvelle Rupert de Nicolas Renaud.
Takum Kuikuro (dont les habitués de Présence autochtone ont déjà pu apprécier The Smell of the Pequi Fruit) est un des coréalisateurs de The Hyper Women (As Hipermulheres) présenté par les RIDM en première nord-américaine.
À voir également, d'Argentine, L'Ethnographe sur un ethnologue qui change de camp et épouse la cause autochtone après avoir marié une Wichi; et de Russie The Tundra Book : A Tale of Vukvukai, The Little Rock.
Présence autochtone invite donc les cinéphiles qui s'intéressent aux cultures premières et au cinéma des Premières Nations à se procurer les billets pour assister à la projection de ces films remarquables.
Documentaires présentés :
Horaire et information : ridm.qc.ca
June 21 2012 / Celebration of National Aboriginal Day in Montreal
Civic ceremony to mark the day
Dances, drumbeats and honour songs in Old Montreal
At noon on Place Jacques-Cartier
Meeting point at Place Vauquelin beside the townhall at 11 30 AM to embark on a joyous march to where the fire burns.
Other activities will follow, linked to the 11 Nations show: a live demonstration of traditional arts and crafts all afternoon at the southern edge of Marché Bonsecours and a performance by Innu singer Katia Rock at 3 p.m. Then, at 7 p.m., Florent Vollant will take to the stage of Salle Gilles-Carle. Will also be kicked off a segment devoted to a young emerging performer, the Mohawk Gage John Lazare.
At the Montreal Native Friendship Centre, 2001 St-Laurent Boulevard, several workshops will be hosted: beading, making dreamcatchers, stone carving, etc. A community supper will follow at 6 p.m.
Land Insights wishes to thank Canadian Heritage, which administers the Celebrate Canada program, Ville de Montréal for the city's support to carrying out this highly symbolic event, as well as Les productions Feux sacrés, Roy Box and SDC du Vieux-Montréal, partners in the celebration.


Présence autochtone 2012
(Montreal, June 18 2012) The oldest, most deeply rooted and most longstanding resistance movement in the Americas invites you to its great annual event. A peaceful, joyous cultural event, drumming to the earth's heartbeat. With the words of ancient languages, millennial cultures live in the present time as Montreal once again becomes the New World's cultural metropolis.
From July 31 to August 8, 2012, First Peoples' Festival takes wing for the twenty-second time on the island, and beyond. With a wide range of events from gastronomy to cinema, from poetry readings to electro concerts, from Place des Festivals to the Kahnesatake pinewoods, providing a host of opportunities for discoveries, making friends and sharing experiences.
On the Loto-Québec stage at Place des Festivals, Florent Vollant, the world's most famous Innu, will star in a major show on August 2, while on the 3rd there will be a big electro concert, co-presented by MEG Montreal: the Ojibways of A Tribe Called Red will share the stage with two great Amazigh performers, DJ Mood and Foulane. On Sunday the 5th, young new performers will offer up a testing-ground concert co-presented with Musique nomade.
Cinema segment: several premieres
The opening film is Toomelah (Cannes, Un certain regard 2011) by the great Aboriginal filmmaker Ivan Sen. This is the first of a series of feature films from the South Pacific never screened in Montreal, followed by another Australian feature, Here I am, by Beck Cole (screenplay for Samson and Delilah, caméra d'or Cannes 2009), from New Zealand, Boy by Taika Waititi (who won an Oscar for Two Cars, One Night), from the Philippines, Busong (Cannes, Quinzaine des réalisateurs 2011) by Auraeus Solito.
From the Americas, We Still Live Here ( Anne Makepeace, USA 2011) and The Grammar of Happiness (Australia-Brazil 2011) about the rebirth of a language (Wampanoag) and the singularity of another (Pirahã). Granito hunts genocidal generals in Guatemala; a Canal D and APTN co-production. Apu ui Nepaian (Je ne veux pas mourir), a world premiere, follows Montreal homeless people in a healing process in the forest. Finally, Tropico do Saudade (France 2011) follows the footsteps of Lévi-Strauss in Brazil, as the closing film.
The awards ceremony will take place on August 5 at McCord museum, announcing prizes such as Rigoberta Menchu, Teueikan and Coup de cœur Télé-Québec.
Poetry takes the stand with Joséphine Bacon, Natasha Kanapé Fontaine, Rita Mestokosho and Manon Nolin, four Innu women poets in an evening titled Le Nitassinan dans mon rêve, co-produced with BAnQ and presented at the Grande Bibliothèque on August 6. Recent artworks by Christine Sioui Wawanoloath at the Canadian Guild of Crafts while two young Mohawk printmakers will be showing at Oka and Kahnesatake. The Revisionning the Americas through indigenous cinema conference returns, while a citizens' forum is creating a Trust Circle. L'Autre Montréal is featuring an Amerindian tour, the McCord Museum a discussion of Inuit art, and Le Contemporain restaurant is serving up Aboriginal menus (Pre-Colonial Mexican cuisine and New Innu Cuisine).
(30)
Source: André Dudemaine, Terres en vues
Info: Henry Welsh, Ixion communications, (514) 495-8176