Literature
---
Rita Mestokosho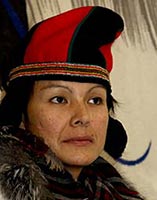 Photo: David Lefranc
Rita Mestokosho is the first Innu poet to have published a collection in Quebec, Eshi uapataman Nukum. Comment je perçois la vie, Grand-Mère (1995). She was born in the Ekuanitshit community (Mingan) in 1966, and still lives there today After collegiate studies in Quebec City and Montreal, she undertook political science studies at Université du Québec à Chicoutimi. Returning to her home village, she has worked in the educational field. A mother of two children, she sees work with youth as the basis for the future. For some years now she has been working on the creation of an Innu mitshuap uteitun, a cultural centre in her community. Upon request from the women in her village, she became a counsellor on the Ekuanitshit Band Council and continues to work (passionately) on cultural and educational projects. Rita Mestokosho has written since she was a teenager. It was not long before she wondered how she could remain Innu while taking a path so different from her parents and grandparents. Writing also allowed her to find herself. Publication of her first work caused a great deal of interest among the Innu, in Quebec and throughout the French-speaking world. Her poems have appeared in several international journals. She regularly takes part in writers in indigenous languages, international literary and poetry festivals and book fairs. In 2002, she published her second volume in her community La Mer navigue/La Terre marche/Le Ciel vole/et moi, je rampe pour humer la vie...
(See Maurizio Gatti, Literature amérindienne du Québec : écrits de langue française, Montréal, Hurtubise HMH, 2004, p. 224-226)
To purchase the work: Renaud-Bray · Librairie du Québec à Paris
---
Kamashikuakant kamantushit — Nikamu Numushum Damien Mestokosho / La lutte contre le magicien — Chanson de Damien Mestokosho
Ute uinapekut nanitam nitati
Kue pushian nete utenat
Nipetamuan unikamun
Nimushum nutshimit katat
Nikatshituau e uauitak
Nenu unikamun
Kie ne teueikan e inniut.
Il fut une lumière blanche
Qui descendit sur le ciel rouge
Au travers de la terre qui bouge
C'est la chanson de mon grand-père.
Il parle de la lutte contre le magicien
Le sorcier des grandes ténèbres
Il est fort l'histoire de mon peuple
Tout comme celui de mon grand-père.
Les mots dans une langue sage
Ont une valeur sans âge
La voix dans une langue lointaine
M'amène à une paix sereine.
Utamueu utaiueikana numushum Tamien
Nikamu shashit utapatshimun
E uauinat kamantushin
Kamashikuakant itueu.
E peituauk teueikan
Nash nete tamit ninatuk
Kau tshetshi inniuian
Nin kaminakauian tshetshi uitamak
Tshikauinu assi.
Rita Mestokosho
Kamashinaitshiet innu ishkueu.