Kanakan Balatingos, his indigenous name, AKA Aureus Solito, was still an emerging filmmaker when he received the Séquences journal prize for best documentary at 2005 Montreal First Peoples Festival. This was his first international award; long before his film Busong was selected for the "Directors' Fortnight" section at the Cannes festival.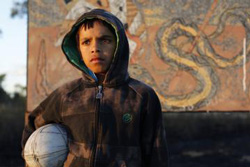 Busong, Boy, Here I Am, Toomelah, presented in their Montreal premiere (and Canadian, for Toomelah, the opening film) in this 22nd edition, are all works emerging from First cultures, whose directors have been recognized by prestigious podiums (Cannes, the Oscars, Sundance, etc.) during their careers. For people who attended previous Montreal First Peoples Festivals, Balatingos, Taika Waititi, Beck Cole and Ivan Sen are familiar on the marquee.
Following the rising tide of Indigenous peoples' cultural affirmation, and of the cinema this movement has brought forth, the festival has grown from youth to maturity, and in partnership with a high-level conference, has become a beacon over the years for an artistic and social phenomenon ongoing throughout the world.
Including Sioui-Durand's Mesnak, a total of five full-length feature films by directors from the Palawan, Maori, Aborigine and Wendat nations will be screened at the festival in 2012.

Noam Chomsky appears in two documentaries, Lévi-Strauss in one. The figure of the Amerindian, with distinctive languages and cultures, continues to find a place in the intellectual landscape as a partner in dialogue for the great Western thinkers in an authentic dialogue between civilizations. Festival guest Dan Everett will remind us to what extent the language of the Pirahã people, which he has studied and described, questions the foundations of contemporary linguistics. This is the precise subject of the film The Grammar of Happiness; while We Still Live Here is the story of the revival of a language that had disappeared.
But transmission remains a challenge for damaged societies, marked by the many assaults to which they have fallen victims. Painful realities that appear between the lines in several films: forming the background of Mi Chacra, a peasant chronicle about a fragile Quechua farming community in its eternal beauty, facing off against creeping urbanization, Sip'ohi, a contemplative look at an urban Aboriginal who seeks out the words of the elders of his nation in northern Argentina, Granito: How to Nail a Dictator, speaking out against impunity for genocidal generals in Guatemala and Apu Ui Nepian (Je ne veux pas mourir), which takes us into the forest with Aboriginal homeless people who are seeking a path to healing.
In all these cases, eyes turn to the future, where life must stubbornly find a way to go on.



Shorts films
Full-length films
WEB DIFFUSION