Raphaël Benedict, a Université du Québec à Trois-Rivières visual arts graduate, is the recipient of the Mérite Press-Papier 2002 award, an active member of Atelier Presse-Papier from 2002 to 2004 and also recipient of the Gilles Verville 2004 2nd prize awarded by Université du Québec à Trois-Rivières.
He is in charge of a training program for artists in digital creation for the Premier Jet collective project at Atelier Presse Papier.
In summer 2004, he was artist in residence at Musée des Abénakis and developed a stained-glass project, as well as a project of an archeological nature. Moreover, he takes part in the Atelier Presse-Papier's ABC, a book project, planned to come out at the end of 2005.
An approach full of subtlety, combining a desire for solitude and an urgent quest for identity has lead the artist to strengthen his sense of belonging to his culture of origin. As he gets more and more involved in his community and develops a higher profile there, he has won the trust of his people. This is the context in which he can define the specific contribution of a contemporary creator, whose experiences and influences come from outside his community. Working in visual arts, principally in the engraving/printmaking field, whose poetic charge never stops making us discover our own dark sides and the damaged child in all of us, thorugh a strange and murky atmosphere.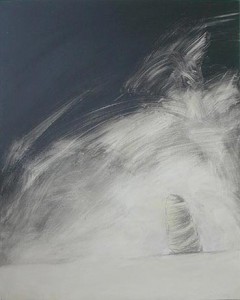 Être et ombre (Being and shadow)
Raphaël Benedict, c. 2000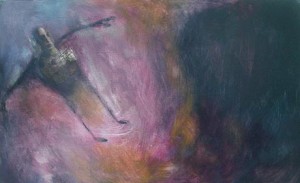 L'ombre (The shadow)
Raphaël Benedict, c. 2000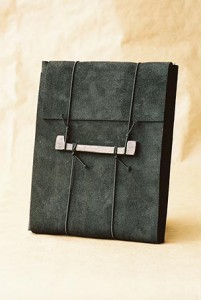 Identité (Identity)
Raphaël Benedict, 200
Artist's book
Leather, wood, etchings and digital images on paper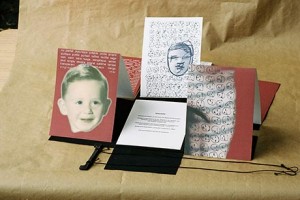 Identité (Identity)
Raphaël Benedict, 200
Artist's book
Leather, wood, etchings and digital images on paper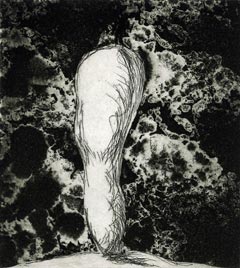 Témoin (Witness)
Raphaël Benedict, c. 2000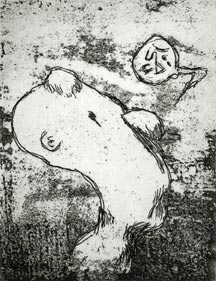 Sauvez-moi (Save me)
Raphaël Benedict, c. 2000