Cree artist and poet Virginia Pésémapéo Bordeleau is pursuing a sensitive body of work in which family and land, mythic animals, plants and rocks form an organic world, charged with an ever-renewed energy. This work is buffeted by a powerful wind of deep-rooted creativity, backed up by an accurate knowledge of the major issues making waves in contemporary art. The strong expressive charge in the works on paper she proposes here bear witness to an open and generous sense of belonging and identity. In more formal terms, the paper surface becomes the territory where the "medicine woman" finds things to heal.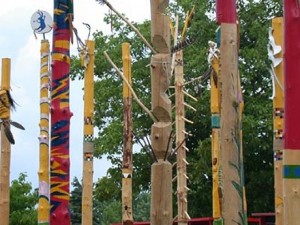 Installation (40 mâts totémiques pour la paix) (detail) (Totemic Masts)
Virginia Pésémapéo Bordeleau, 2001
Wood and other media.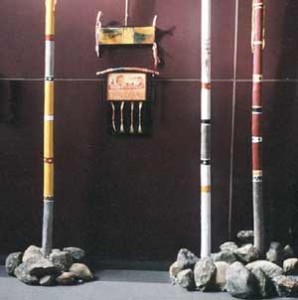 Installation (Mats totémiques et assemblage) (Territorial Masts)
Virginia Pésémapéo Bordeleau, 1998
Mixed media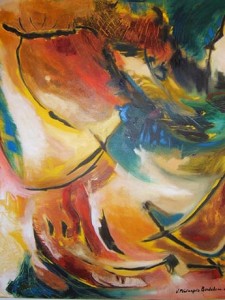 Mocassins
Virginia Pésémapéo Bordeleau, 2005
Oil on canvas 40 x 30″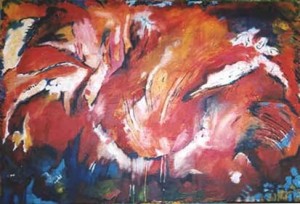 Sans titre (Untitled)
Virginia Pésémapéo Bordeleau, 2001
Acrylic on canvas, 40 x 60″