"Using ancient techniques, such as basketry, I am trying to create a contemporary ethnological art that is closer to Aboriginal identity and that goes beyond cultural mixing. A question to answer — why should artefacts be left to scientists and art to First Nations artists when syncretism is possible?"
SYLVAIN RIVARD
Artist and ethnologist Sylvain Rivard has drawn upon his knowledge of ancient craft techniques in a work honouring the chief, author and teacher Henry Lorne Masta. A panel made of woven beechwood, punctuated with tinted and woodburnt signs, is a reference to Masta's Abenaki origins; objects hung on the panel recall key events in his life. Beyond any interpretation, this work is a perfect example of Rivard's constant concern with bringing practices typical of art crafts into the contemporary art world. What might first seem to be an ethnological showcase is actually an installation, a contemplative space from which emanates the artist's deep respect for a man who devoted his life to the Abenaki language and culture.
Hommage à Henry Lorne Masta
Date Created: 2006
Woodburnt strips of beechwood, sweetgrass, feathers, pencil, bottle and vegetable dye, 101 x 93 x 21cm
Twenty-one vertical strips and nineteen horizontal strips are woven according to traditional basketry techniques. These strips are punctuated with woodburnt signs on the entire woven surface they make up. Regular marks of forms and drawings drawn with a red-hot point contrast with the pale wood: double curves, floral motifs typical of Indigenous ornament, various circles and dotted lines. Very light touches of dye made from strawberry juice illuminate the floral motifs. Long braids of sweetgrass cross this weft vertically, at the left, centre and right. An object symbolic of one of the key aspects of Masta's life is attached to each of these braids. On the left, a bottle of whisky speaks for itself, at the centre two eagle feathers recall that Masta was a chief and finally, on the right, a pencil illustrates that through his writing, he worked to conserve and make known the rich heritage of the Abenaki people.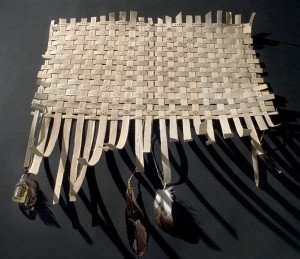 Abenaki Indian Legends, Grammar and Place Names
Creator: Henry Lorne Masta
Publisher: La Voix des Bois-Francs, Victoriaville
Date Created: 1932
Book cover, 21.5 x 15 cm
Presented here in its original edition, this book has every appearance of having many years in service. Its simple cover, with no display or ornamentation, is beige with the wear and tear of the years. The top and bottom right-hand corners are severely dog-eared.