Illustrated tales introduce us to the world without borders of Dene shamans. Bear, fox, beaver, loon, butterfly and spider can pass their gifts onto humans. The shamans derive their powers from their own contacts with animal persons.
Virginia Pésémapéo Bordeleau compiled her Contes de la mythologie athapaskanne (Tales from Athapaskan Mythology) based on Marie-Françoise Guédon's book Le rêve et la forêt, Histoires de chamanes nabesna. The tales describe the needs, problems and even the errors of the community that created them. The artist has made them her own, not as one might hoard a treasure, but out of a desire to share them as a revelation. The seemingly peaceful images are an illusion: the shamans are on the watch. Wily Beaver will learn it soon enough.
The animal characters in the tales Virginia Pésémapéo Bordeleau chose to illustrate are all subject to the great laws of the living world. Their characteristics and tribulations provide these fables and legends their substance and their grasp on reality.
Without them, the world of human beings would be only solitude and darkness. Virginia Pésémapéo Bordeleau, more accustomed to the large scale and broad gestures of painting, chose to explore the patient craft of engraving: an introspective mood permeates her images inhabited by hieratic beings busily untangling the mysteries of the worlds.
Contes de la mythologie athapaskanne
Date Created: 2006
Title page and inside of box, box 35 x 26 cm and title page 33 x 24.4 cm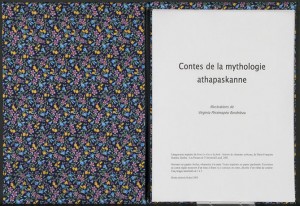 La jeune fille qui épousa la Grosse Bête
Date Created: 2006
Wood engraving, ink on Arches papers, 33.5 x 24.5cm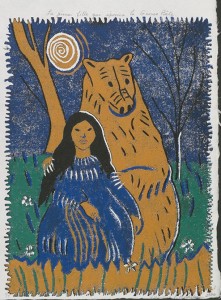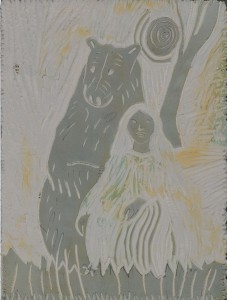 Les aventures du Malin-Castor
Date Created: 2006
Preparatory drawing, graphite on paper, 27.9 x 21.6 cm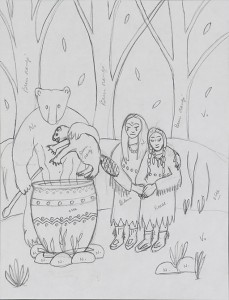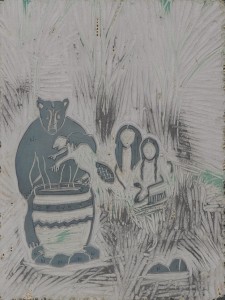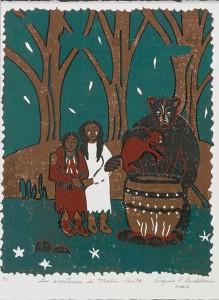 Les enfants, la mésange et l'araignée
Date Created: 2006
Wood engraving, ink on Arches paper, 33.5 x 24.5 cm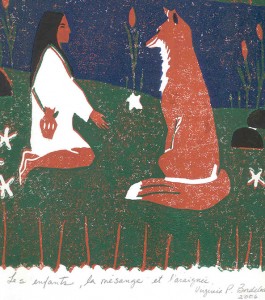 Le monde selon le corbeau
Date Created: 2006
Wood engraving, ink on Arches paper, 33.5 x 24.5 cm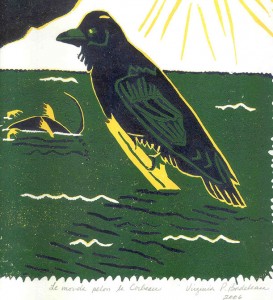 Le collier du huard
Date Created: 2006
Wood engraving, ink on Arches paper, 33.5 x 24.5 cm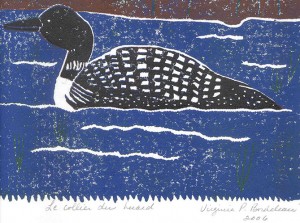 Les enfants, le papillon et la mésange
Date Created: 2006
Wood engraving, ink on Arches paper, 33.5 x 24.5 cm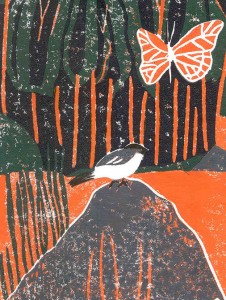 La femme kidnappée par les oiseaux
Date Created: 2006
Wood engraving, ink on Arches paper, 33.5 x 24.5 cm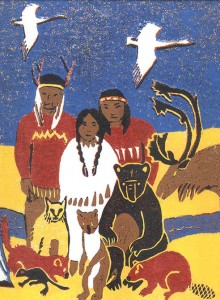 Les caribous
Date Created: 2006
Wood engraving, ink on Arches paper, 33.5 x 24.5 cm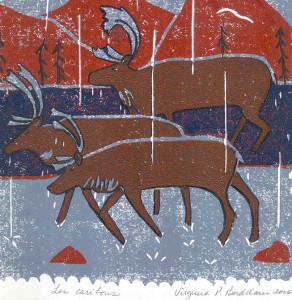 Le rêve et la forêt Histoires de chamanes nabesma
Creator: Marie-Françoise Guédon
Publisher: Les Presses de L'Université Laval
Date Created: 2005