Jacques Néwashish is a painter and printmaker who also manages a traditional life site at Coucoucahe in the Upper St. Maurice Valley. Intelligence attentive to beings and the land permeates his work. Through his art and his involvement in his people's cause, this sensitive and committed creator has remained a man with the freedom to accord his breathing to that of the earth.
During his installation-performance titled Circle of Life, Jacques Néwashish plotted out a vast trail, leading those who follow to experience an intervention in a specific landscape. A Wémotacie team has cut and prepared a thousand poles or sticks, two metres high, under the artist's guidance, to mark a trail of friendship. These poles bear signs, marks and traces of the region where they were gathered and of the people who worked them. This first stage in the project involves Wémotacie Atikamekw community participation, particularly youth, providing them an opportunity to show their pride in belonging to their community while extending a gesture of friendship to city dwellers.
Afterwards, the poles of friendship will journey to Montreal, where there will be installed according to the site chosen. Specific rituals and performances (chants and dances) will accompany the stages in the performance.
Finally, the poles of friendship will be set up on the site surrounding Kondiaronk Belvedere in the form of a trail. The Atikamekw Nation's territorial forest will thereby take root in the cityscape. A symbolic exchange between two types of land occupation will be elaborated around the artwork.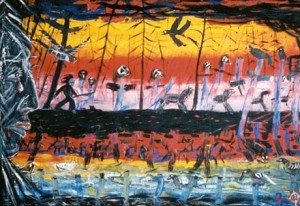 L'homme suivra (Man will follow)
Jacques Néwashish, 1999
Acrylic on canvas, 40 x 60″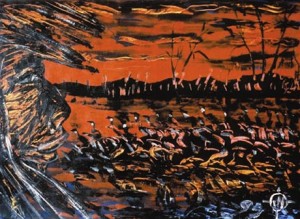 Les oies (Geese)
Jacques Néwashish, 1999
Acrylic on canvas, 30 x 40″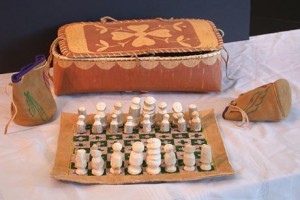 Les gardiens de la terre (Guardians of the Earth)
Jacques Néwashish, 2003
Chess set
Bark, leather and moose antler, beads and embroidery thread
Chessboard, approx. 13 x 13″. Baskets, approx. 20 x 17″
Small leather bags, approx. 5″ circumference and 7″ high each
Smaller chess pieces, approx. 1″, larger pieces, approx. 3″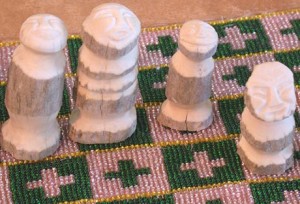 Les gardiens de la terre (detail) (Guardians of the Earth)
Jacques Néwashish, 2003
Chess set
Bark, leather and moose antler, beads and embroidery thread
Chessboard, approx. 13 x 13″. Baskets, approx. 20 x 17″
Small leather bags, approx. 5″ circumference and 7″ high each
Smaller chess pieces, approx. 1″, larger pieces, approx. 3″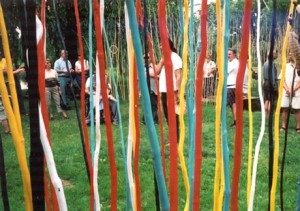 Cercle de vie, performance (detail) (Circle of life, performance)
Jacques Néwashish, 2002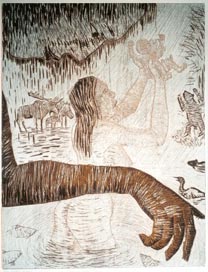 L'Enfant lumière (The child of light)
Jacques Néwashish, 1999
Woodcut on paper, 22 x 30″