Viewed side-by-side, Pauline Lahache's two works are perplexing, seeming to hail from opposite universes. And yet, the magnificent ceremonial headdress and the eagle on its tree in Prophesy are products of Iroquois spirituality, an endless source of inspiration for this artist. The ceremonial headdress belongs to a chief and is worn during the condolence ceremony that takes place in the longhouse. With the tree of peace and the longhouse, we are in the heart of Mohawk spirituality. Pauline Lahache wanted to emphasise its importance in these works, by using some of the codes of Christian iconography in Prophesy, and by persisting in the creation of an object of a sacred nature, as an expression of faith.
With Prophesy, the artist is taking up an essential theme of Mohawk spirituality. The great tree of peace still remains a powerful unifying symbol, and for many, through the knowledge of its meanings, the path of peace, which is the Law for the Iroquois. The figure of the eagle at the summit of the tree reminds us that there can be no peace without vigilance. Prophesy is a paradoxical work in that its gold leaf is typical of a certain type of Catholic statuary. Whether or not the artist is being ironic here remains an open question.
The ceremonial headdress completing Pauline Lahache's contribution is also an object of a sacred nature. Its workmanship, from the choice of materials to the meticulous arrangement of its motifs, is a kind of prayer in itself.
Coiffe cérémoniale
Date Created: unknown
Eagle, partridge and wild turkey feathers, fur and bear claws, deer antlers on carrying case. The case measures 30 x 55cm, the headdress measures 40 x 27cm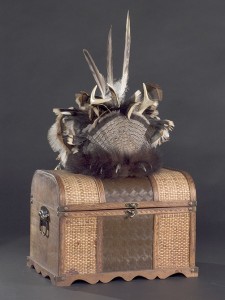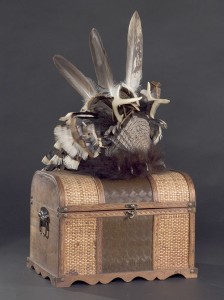 Prophesy
Date Created: 2006
Gold leaf on plaster, wood and metal, 62 x 62.5 x 40.5 cm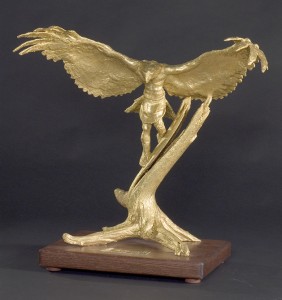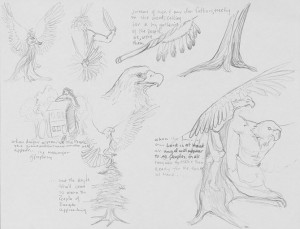 Kateri
Creator: Auteur non mentionné
Date Created: non daté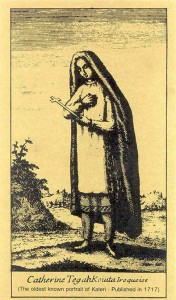 The Tree of Peace
Creator: Author not mentioned
Date Created: unknown
Illustration taken from the book The White Roots of Peace by Paul A. W. Wallace, University of Pennsylvania Press, 1946