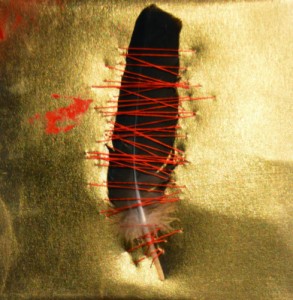 The Canadian Guild of Crafts is proud to present, in partnership with the Montreal First Peoples Festival, the most recent solo exhibition by artist Eruoma Awashish, Reliques et passages, which will be held from July 17th to August 30th 2014. The opening will take place on Thursday, July 17th 2014 from 5 p.m. to 7 p.m. For the occasion, the artist will be present to meet and greet the public starting at 3 p.m.  For the past ten years, the collaborations between the Guild and the Festival give birth to remarkable exhibitions by First Nations contemporary artists that haven't yet stopped breaking boundaries and confronting the spectator with unusual, original works of art. The multiplicity of media employed and of themes touched upon, where notions of tradition and of contemporaneity meld together by means of an aesthetic research unique to each artist, highlight the eminently personal character of each work of art exposed.  Under the auspices of The Montreal First Peoples Festival, the Guild has provided a showcase for the affirmation and recognition of culture and has demonstrated the importance of the visual arts in identity and cultural preservation. Interfacing with the members of the organisation, our joint partnership with Land In Sights, is an important step to accessing essential information and scholarship about art made by the First Nations. Exhibitions such as these have been one of the primary sources for encouraging support for the Arts in Canada, raising standards of craftsmanship and stimulating public interest.
ERUOMA AWASHISH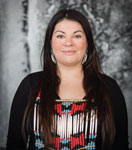 Eruoma Awashish's  artistic  process  emphasizes  on  updating traditional  craftsmanship  and  on merging the ancestral  lifestyle with  contemporary realities.  She enjoys  playing with disruptions, duality and transculturation  to create hybrid works where identity and memory are of utmost importance. In her solo exhibition Reliques et passages, she works mostly on the themes of rupture and wound and juxtaposes organic material with contemporary media and objects.  Eruoma Awashish has received her BFA in cross-disciplinary arts and has taken part in numerous exhibitions, both solo and collective, in major museums and galleries throughout the province of Quebec.  She has also participated in the Symposium international d'art contemporain de Baie-Saint-Paul and more recently, she has collaborated in the making of the documentary film Québékoisie, which has attracted her a lot of attention and an increasing demand for her work from both collectors and institutions.
CANADIAN GUILD OF CRAFTS
The Canadian Guild of Crafts is a non-profit organization founded in 1906 in a joint effort to preserve, encourage and promote contemporary and emerging Inuit and First Nations art and fine crafts of Canada. The Guild includes a permanent collection of Inuit art, one of the most important in Canada, an archive of inestimable ethnological value, an educational program which welcomes students from different horizons and a gallery bringing together works by renowned and upcoming artists.  Located in downtown Montreal, near the Montreal Fine Arts Museum, the Canadian Guild of Crafts is an essential institution offering culture, knowledge, history and more.