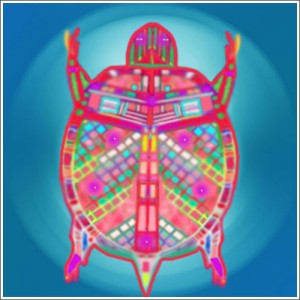 Tortoise Island
One of the creation myths of the world recounts that a woman descended from the sky to become the grandmother of all humans.
She was welcomed by the Great Turtle who offered her shell to make a country for Sky Woman.
Until today North America is called Turtle Island by First Peoples in memory of this creation myth.
The author was freely inspired by the Wendat version of the legend. The small turtle clutching to Sky Woman's womb, the Turtle's dream, Woman Healer and Circle Warrior are creations of the author.
Watch
Credits
Original idea, text and digital images
Christine Sioui Wawanoloath
Animation and ComputerGraphics
Joseph Lefèvre
www.jocoolmultimedia.ca
Narration
Sylvie-Anne Trudel Sioui
Aataenstic Masques et Théâtre
www.aataentsic.org
Original music and sound mixing
Coyotzin
www.coyotzin.com
Sound technician
Bruno Bélanger
PRIM VIDEO
www.primcentre.org
A project realised thanks to the contribution of
Canadian Heritage (Gateway Fund)
www.pch.gc.ca
Thank you
Société des arts technologiques
www.sat.qc.ca
Secrétariat des affaires autochtones du Québec
www.saa.gouv.qc.ca
Secrétariat des Journées de la culture
www.journeesdelaculture.qc.ca
Eric Ball
Michel Côté
Maxime Wawanoloath