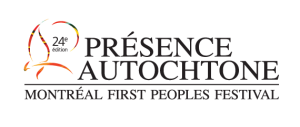 Montreal March 26 2015. Terres en vues, société pour la diffusion de la culture autochtone is pleased to announce that First Peoples Festival has earned the Top Event 2015 award presented by Aboriginal Tourism Quebec at the Entrepreneurship Recognition Gala for Aboriginal Tourism. This ceremony was the closing event at the 4th International Aboriginal Tourism conference, held in Quebec City and Huron-Wendat territory. André Dudemaine, artistic director of the festival declared "I am very proud of this award, recognizing our constant efforts for over twenty years to bring an Aboriginal Presence to the heart of Montreal. This festival illustrates the wealth of Aboriginal cultures and recognizes the commitment of the artists and craftpersons who provide its vitality and meaning".
Under the honorary co-chairmanship of the Honourable Maxime Bernier, Minister of State for Tourism, Mr Geoffrey Kelley, Quebec Minister responsible for Native Affairs, and Mr Ghislain Picard, regional chief of the Assembly of First Nations of Quebec and Labrador, this gala rewards eleven Quebec Aboriginal tourism enterprises and outstanding people who have distinguished themselves providing exceptional, high-quality tourism experiences. This awards ceremony is also an opportunity for a tribute and recognition of the success, efforts and dynamism of our rapidly-growing industry.
TOP EVENT AWARD presented by Ghislain Picard, Regional Chief of the Assembly of First Nations of Quebec and Labrador.