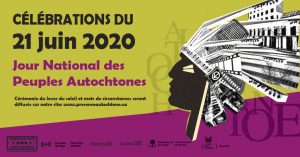 Land In Sights, in accordance with established tradition, will organize a fire ceremony on the island of Montreal on June 21st, at sunrise; on this solstice day, a Mohawk Elder will preside over the ceremonial which, pandemic requires, will be webcast via www.presenceautochtone.ca
starting at 5 am. Montrealers are invited, at that time, to open their computer and their window and to burn some tobacco in order to participate in this propitiatory rite which is intended to herald better times.
Artists and personalities from the Aboriginal community will also have recorded messages of hope and healing addressed to Montreal and the country, especially to mark this National Indigenous Peoples Day 2020. These wishes coming from the community will be available online following the streaming of the ceremony.
In addition, MAtv will broadcast from 8 p.m.  to midnight, the programs shot during the 2019 Montreal First Peoples Festival; an opportunity to immerse in the festive excitement which, hopefully, will return to ignite Montreal in the summer of 2021.
The personalities who will deliver a message on www.presenceautochtone.ca :
Ghislain Picard, Chief of the Assembly of First Nations Quebec-Labrador
Sylvie D'Amours, Minister Responsible for Indigenous Affairs
Marc Miller, Minister of Indigenous Services
Valérie Plante, Mayor of Montreal
Charles Bender, Chairman of the Board of Land in Sights, theater man
Moe Clark, singer
Kathia Rock, singer and actress
Timothy Armstrong, communicator
Virginia Pesemapeo Bordeleau, painter and writer
Joséphine Bacon, poet
Leanne Betasamosake Simpson, writer
Note: Land In Sights was the first Aboriginal organization in the country, in 1995, to celebrate the National Day of Indigenous Peoples in a Metropolitan Area.
Land In Sights acknowledges the support of Canadian Heritage (Celebrate Canada), Ville de Montréal and Space for Life.