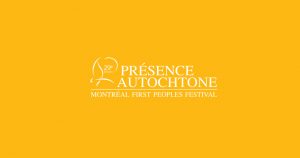 Land inSIGHTS is pleased to announce that for our 29th consecutive year, Montreal First Peoples' Festival will take place in Montreal, summer of 2019, August 6th-14th.
At Montreal's Place des Festivals, from Wednesday the 7th to Sunday the 11th, shows by local and international performers will take place every evening.
The festival is screening premiere films from international horizons. Our opening film is the world premiere of Mon cri saura parler, directed by Santiago Bertolino, following the meteoric emergence of Innu poet Natasha Kanapé Fontaine on the Québec and world cultural scene.
The grand concert, melding Mongolian throat singing with Inuit katajaq, under the direction of Katia Makdissi-Warren, will certainly be a highlight among the vocal and musical performances at the 2019 edition of Montreal summer's leading Indigenous event.
Furthermore, the Guild will present recent works by Atikamekw artist Meky Ottawa. In partnership with the Centre international d'art contemporain de Montréal, a show on Two-Spirit will be displayed in various venues, including UQAM gallery.
A cultural, peaceful and joyful celebration, to the drum beating out the rhythm of the Earth, resounding through the magical drums of Buffalo Hat Singers and Northern Voice.
With words of ancient languages, age-old cultures are living in the present tense and Montreal once again becomes the cultural metropolis of the New World. During a week, a wide range of activities from gastronomy to cinema, poetry reading to electro concerts offers myriad opportunities for discovery, encounter and sharing with the First Peoples of this continent.
Travelling upstream to the headwaters takes us to spawning grounds of renewal.
* The full programmation will be available July 16 at the latest.